By Bella Ross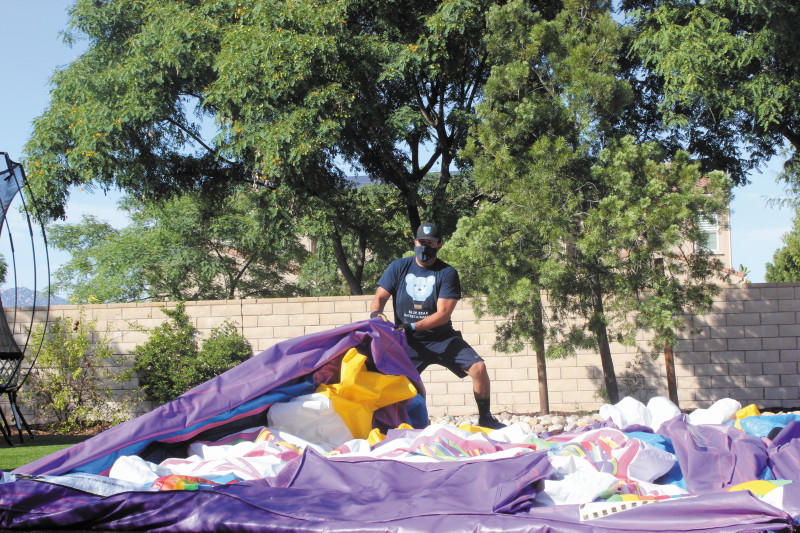 As Scripps Ranch's youngest residents grow increasingly restless in their houses during the coronavirus pandemic, local business owner Alberto Frias said he has the perfect medicine: bounce houses.
The COVID-19 pandemic hit merely a year after Frias launched his bounce house business, Blue Bear Entertainment.
Although the early months of the outbreak were grim – with Frias experiencing a week's worth of cancellations – he quickly realized his five inflatable bounce houses gave him an easy way to perk up the community during tough times.
"Think about it: parents are home with their kids for the last three months. They're suffering sometimes and sometimes they need a break," Frias said. "Set up a bounce house for the kids and they're jumping all day and they actually go to sleep at 9 p.m."
Once the County started reopening in June, Frias began setting up his bounce houses in local parks – then posting about it on Scripps Ranch Facebook groups for anybody to enjoy. Some days, he would set up an inflatable castle in his front yard so community members could enjoy private sessions.
"He set up drinks for us and he sanitized it right before we got there," said Katie Mandalia, who brought her two young kids over to bounce. "Then afterward, he ran out and had more wipes to show us how clean he was keeping it."
Mandalia had been quarantined in her Scripps Ranch condo for months with her six-year-old son and one-year-old daughter. Because she has no outdoor space at her home, her family depends on daily walks to get out of the house. After jumping for about an hour, Mandalia's son said he had the "best day of his life."
"For that hour, the kid gets to be a kid again," Frias said.
Blue Bear Entertainment came to light after Frias suffered a stroke in December 2017, forcing him into 10 months of physical therapy. He said it was this experience that inspired him to get closer with his kids, and the bounce house business was born.
Even with the financial struggles of operating as a young business during the COVID-19 crisis, Frias has found ways to offer inflatable castle experiences to Scripps Ranch residents.
"It's time to just be a kid again because these days are just totally different," Frias said.
Mandalia said her experience with Frias served as a friendly reminder of the kindness that remains in others, especially during tough times.
"It's nice to know that people are still willing to help people, knowing they don't get anything back in return," Mandalia said.